BLOWN AWAY! is on the list of BEST BOOKS PUBLISHED
by Bank Street College of Education and
a Mark Twain Nomine
Nominated for MARK TWAIN AWARD
"Excellent, Accurate Florida History"
"We are using this book for Weather Science also."
"A captivating story about Old Florida and the 1935 storm of the century."
also IN PAPERBACK AND E-BOOK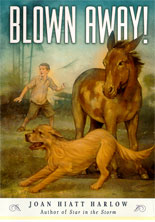 Here's a brief synopsis of BLOWN AWAY as told by Jake, the main character, who lived on the Florida Keys back in 1935 when the worst hurricane in history hit.
"Hi I'm Jake. I'm fourteen, and I live in Florida Keys with my folks and little sister, Star.
In 1935 my little town of Islamorada was in the path of the most powerful hurricane to make landfall in history. It will be forever remembered as "The Storm of the Century.
My neighbor Sharkey, a veteran of the Great War, lived in a rusty van among a copse of mangroves on the west side of the island. I guess you'd say he was the town oddball. Folks left him alone and kids stayed away from him.
When Sharkey came back from Key West with an obstinate mule named Jewel and a bristly dog called Rudy, the island folks whispered, "Trouble comes in pairs."
Trouble came all right, that summer. First, something prowled and stalked the town at night, including my little sister, Star. It killed animals and sent fear throughout the islands. Jewel and Rudy were blamed but Sharkey knew what the beast really was by the large tracks -and Jewel and Rudy proved it.
But that was nothing compared to what was ahead.
The Storm - an angry monster - was about to hit Islamorada. It would shatter lives, destroy the town, and ultimately change the entire Florida Keys forever.
Read my story, hold your breath, and hang on. You are about to be
BLOWN AWAY!
NOTE FOR EDUCATORS: This book is used in classrooms for History, Ecology, and Weather Studies.