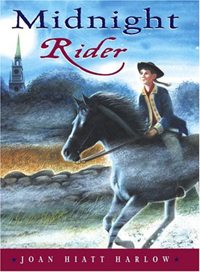 Cover Illustration by Wendell Minor
Midnight Rider
Joan Hiatt Harlow
Publisher: McElderry Books,
Simon & Schuster Children's Publishing
ISBN: 0689870094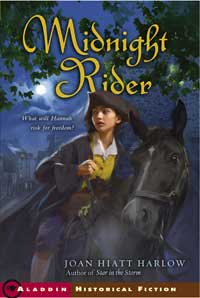 MIDNIGHT RIDER is also available in paperback. It is distinctive from hard cover version. Cover illustration by Robert Papp.
Available in e-book too!
Nominated for Wyoming Indian Paintbrush Award
"I would highly recommend this story that both entertains and teaches a little colonial history as well."
"It makes a good resource for teaching historical fiction that fits the fifth grade curriculum here. Connections with students' social studies classes are many. Additionally, the kids relate to the main characters."
"Preteen girls especially loved this story!"
---
It's 1775 and the American Colonies are on the brink of Revolution. Boston is swarming with soldiers, spies, and secrets. Tempers are flaring between Whigs and Tories. Fourteen-year-old Hannah Andrews is thrown into the midst of it all when she is driven out of her home by her guardian aunt to work as an indentured servant in the Boston household of Thomas Gage, Governor of the Colonies and General of the British armies.
Soon after her arrival, the stable boy Caleb befriends Hannah and alerts her to the issues faced by Americans under British rule. Hannah dreams of freedom and begins to sympathize with Americans who desire independence from Britain . On the other hand, Hannah has deep respect for the Gage family and affection for her rebellious young mistress, Meg. Hannah soon realizes that Meg is as trapped in her aristocratic life as Hannah is in her own bondage.
Hannah relies on her beloved horse, Promise, to help her through the difficult times. Disguised as a boy on their midnight rides, Hannah learns on which side her heart belongs. When she overhears a British plot to march on her hometown, she and Promise risk their lives to carry the warning to the town of Salem .
Packed with fascinating historical details, real events, and memorable characters, Midnight Rider is historical fiction at its best-guaranteed to thrill Joan Hiatt Harlow's loyal fans as well as those lucky readers who are discovering her for the first time.
Learn how to make invisible ink!
Reviews
From Northport-East Northport Public Library, Northport, NY
Book Reviews Older Readers
This is a wonderful historical fiction. It's very exciting, but in an understandable way. The plot was interesting and I could see the story in my head, almost as if it were a movie. I love this book! I rate it a 10/10. Recommended!
Bridget
This book was amazing because it took you to the height of your emotions. It was one of the best books I have ever read. The theme was about a girl who must pick sides in the Revolutionary war. While reading this book I had very few questions about what was going on because this book was very well written. I believe it may win the Newbery award.
Anna