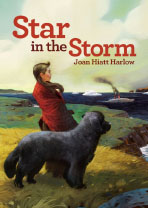 Star in the Storm
Joan Hiatt Harlow
Illustrated by Wendell Minor
Publisher: McElderry Books,
Simon & Schuster Children's Publishing
ISBN: 0-689-83905-1
Also available in paperback from
Aladdin
Maggie and Sirius are in JAPAN! Yes, STAR IN THE STORM is published and distributed in JAPAN!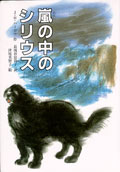 Awards
• STAR IN THE STORM is a Florida Sunshine Book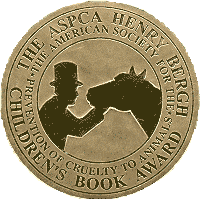 •The Michigan Reading Association 2002 READER'S CHOICE AWARDS as selected by the students of Michigan, fourth and fifth grade winner
• STAR IN THE STORM chosen for the Spring 2000 Kids Pick of the Lists
• STAR IN THE STORM was listed among the "Best Books for Kids" in the June/July issue of FAMILY LIFE
• Disney Adventures Book Award, Best Adventure Book of 2000
• Henry Bergh Children's Book Award
It's 1912 and a statute has just been passed outlawing all nonshepherding dogs in Bonnie Bay, Newfoundland. Twelve-year-old Maggie Wells' beloved dog, Sirius, is in danger of being shot, so she hides him in a cave. A storm strikes the coast, forcing a steamer offshore to founder. Maggie knows Sirius can save the people on the ship, but she risks his life by bringing him out of hiding.
How Maggie makes the hardest decision of her young life is the heart of this exciting, original adventure, which is based upon true accounts of rescues performed by Newfoundland dogs in the early 1900s. Readers will be completely caught up by the story of one feisty young girl and her brave, lovable dog.
Reviews
"Stirring . . . the relationship between the girl and her beloved dog is beautifully drawn, giving the book surefire appeal among dog-lovers as well as readers who like adventure."Booklists
"A dog story in the best tradition of the genre... readers will be captivated by the scope of this story!"Kirkus
"A new classic is born!"Childwrite
"Dog lovers will revel in the many exploits of this gentle giant!"Horn Book
"Atmospheric, briskly paced ... will inspire dog lovers and adventure hounds alike."Publishers Weekly